Tharus and Friends Association (TFA) initiated scholarship program since its inception. TFA has been providing scholarships to academically intelligent but financially weak students in 10+2 or higher levels in Nepal. The financial amount for the scholarship depend primarily on the availability of scholarship fund which is voluntarily donated by the community members. Therefore, the exact amount may vary year to year.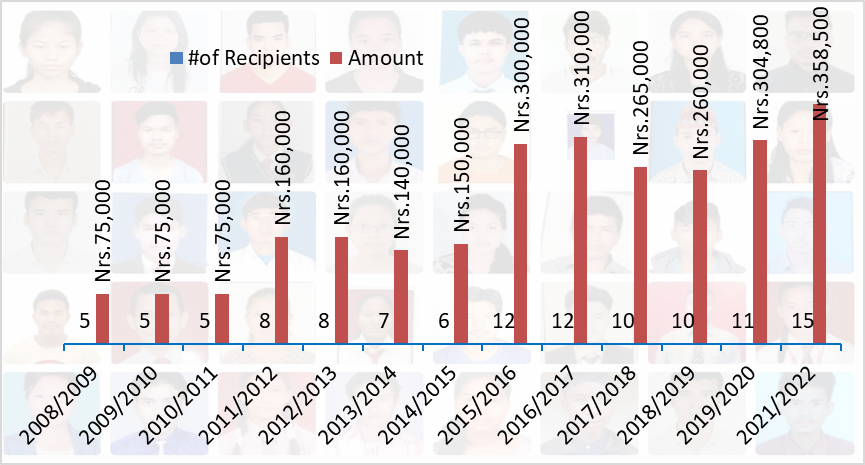 Goals and Objectives:
To promote educational awareness and excellence within the Tharu community.
To encourage Tharu youths to pursue higher education.
To provide financial support to socially deprived, poor, and intelligent Tharu students.
To prepare academically competent citizen to help empower the community and the nation.
From 2008/2009 to 2019/2020 (Nepal academic year), TFA has provided NRs 2,274,800 in the form of 99 scholarships to students pursuing higher education in Nepal. TFA sincerely expresses its gratitude to all the donors and supporters of this program. Apart from the general scholarship program, starting from 2016/2017, there has been a provision of "Named Scholarship" in which any interested member can donate $300 or more and can name that scholarship of to his/her desire and can also pick a student from the winners' list to whom he/she wants to sponsor. It may be worth noting that two sustaining "Named Scholarship" donors have chosen to support students from former Kamaiya (bonded laborer) families. For more details, please see below:
Scholarship Recipients: 2021/2022

SN

Name

District

Scholarship Amount (NRs)

Remarks

1.

Aarzoo Singh

Saptari

25,500

General Scholarship

2.

Bhupendra Chaudhary

Bardiya

35,000

Basanti Devi Chaudhary Scholarship

3.

Mohan Chaudhary

Kanchanpur

35,000

Saroj Choudhary Scholarship

4.

Ravi Chaudhary

Bardiya

35,000

Chicago Tharu Society Scholarship

5.

Rojesh Chaudhary

Siraha

25,500

General Scholarship

6.

Sangita Kumari Tharu

Kailali

35,000

Saroj Choudhary Scholarship

7.

Ashish Tharu

Banke

25,500

General Scholarship

8.

Jatin Raut

Bara

25,500

General Scholarship

9.

Nisha Kumari Chauhdary

Rauthat

25,500

General Scholarship

10.

Piyush Chaudhary

Saptari

25,500

General Scholarship

11.

Rahul Chaudhary

Rupandehi

25,500

General Scholarship

12.

Aayusha Chaudhary

Kailali

10,000

General Scholarship

13.

Priti Kumari Chaudhary

Saptari

10,000

General Scholarship

14.

Samir Chaudhary

Bara

10,000

General Scholarship

15.

Prayan Chaudhary

Banke

10,000

General Scholarship

Scholarship Recipients: 2019/2020

SN

Name

District

Scholarship Amount (NRs)

Remarks

1.

Ramakant Chaudhary

Kailali

33,600

Basanti Devi Chaudhary Scholarship

2.

Surendra Dahit Tharu

Bardiya

33,600

Saroj Choudhary Scholarship

3.

Mukesh Chaudhary

Dang

33,600

Saroj Choudhary Scholarship

4.

Sujata Chaudhary

Dang

25,500

General Scholarship

5.

Min Kumar Chaudhary

Kailali

25,500

General Scholarship

6.

Argun Chaudhary

Bara

25,500

General Scholarship

7.

Aasma Chaudhary

Saptari

25,500

General Scholarship

8.

Manika Chaudhary

Saptari

25,500

General Scholarship

9.

Bhagwati Chaudhary

Saptari

25,500

General Scholarship

10.

Suresh Mahato

Nawalpur

25,500

General Scholarship

11.

Diya Mahato

Nawalparasi

25,500

General Scholarship

Scholarship Recipients: 2018/2019

12.

Manika Chaudhary

Saptari

25,000.00

13.

Roshan Chaudhary

Rupandehi

25,000.00

14.

Piyush Chaudhary

Saptari

25,000.00

15.

Utpal Tharu

Saptari

25,000.00

16.

Samikshya Satgaiya

Dang

25,000.00

17.

Kalawati Chaudhary

Sunsari

30,000.00

Basanti Devi Chaudhary Scholarship

18.

Sunita Chaudhary

Dhangadi

25,000.00

19.

Niharika Chaudhary

Dang

25,000.00

20.

Keshab Thanet

Nawalparasi

25,000.00

21.

Naresh Tharu

Bardiya

30,000.00

Saroj Choudhary Scholarship

Scholarship Recipients: 2017/2018

22.

Preeti Psen Khan Tharu

Bara

25,000.00

23.

Utpal Mirdaha Tharu

Saptari

25,000.00

24.

Binisha Thanet

Nawalparasi

25,000.00

25.

Ashis Tharu

Bardiya

30,000.00

Saroj Choudhary Scholarship

26.

Arun Chaudhary

Saptari

30,000.00

Sharada English Secondary School Scholarship

27.

Rupesh Chaudhary

Rauthat

25,000.00

28.

Hasina Chaudhary

Kailali

25,000.00

29.

Muna Chaudhary

Bara

25,000.00

30.

Anil Gurau

Nawalparasi

25,000.00

31.

Shobha Chaudhary

Bardiya

30,000.00

Basanti Devi Chaudhary Scholarship

Scholarship Recipients: 2016/2017

32.

Mitthu Ram Tharu

Bardiya

30,000.00

Saroj Choudhary Scholarship

33.

Rama Chaudhary

Kailali

30,000.00

Sharada English Secondary School Scholarship

34.

Aayushma Chaudhary

Saptary

25,000.00

35.

Aashish Chaudhary

Bara

25,000.00

36.

Peacezone Joshi

Saptary

25,000.00

37.

Rinu Chaudhary

Nawalparasi

25,000.00

38.

Dipesh Chaudhary

Nawalparasi

25,000.00

39.

Nabin Mahato

Nawalparasi

25,000.00

40.

Rojina Chaudhary

Dang

25,000.00

41.

Arjun Pd. Chaudhary

Sarlahi

25,000.00

42.

Santosh Chaudhary

Bara

25,000.00

43.

Priyanka Chaudhary

Udaypur

25,000.00

Scholarship Recipients: 2015/2016

44.

Shanti Kumari Chaudhary

Kailali

25,000.00

45.

Yanu Mahato

Nawalparasi

25,000.00

46.

Manju Chaudhary

Dang

25,000.00

47.

Binod Chaudhary

Rupandehi

25,000.00

48.

Rajat Chaudhary

Rautahat

25,000.00

49.

Manju Thanet

Nawalparasi

25,000.00

50.

Suman Chaudhary

Saptari

25,000.00

51.

Namrata Kalyan

Siraha

25,000.00

52.

Shristika Chaudhary

Saptari

25,000.00

53.

Nabin Mahato

Nawalparasi

25,000.00

54.

Tikendra Kusmi

Kailali

25,000.00

55.

Binay Kumar Chaudhary

Kavre

25,000.00

Scholarship Recipients: 2014/2015

56.

Sajita Mahato

Nawalparasi

25,000.00

57.

Bishal Chaudhary

Udayapur

25,000.00

58.

Anuja Chaudhary

Rautahat

25,000.00

59.

Sanjay Chaudhary

Udayapur

25,000.00

60.

Pashupati N Chaudhary

Nawalparasi

25,000.00

61.

Sita Chaudhary

Bara

25,000.00

Scholarship Recipients: 2013/2014

62.

Sajita Mahato

Nawalparasi

20,000.00

63.

Panjali Chaudhary

Rauthat

20,000.00

64.

Abinash Faujdar

Nawalparasi

20,000.00

65.

Samjhana Mahato

Chitwan

20,000.00

66.

Pashupati N. Chaudhary

Nawalparasi

20,000.00

67.

Anuja Chaudhary

Rauthat

20,000.00

68.

Nabin Chaudhary

Saptary

20,000.00

Scholarship Recipients: 2012/2013

69.

Sajita Mahato

Nawalparasi

20,000.00

70.

Panjali Chaudhary

Rauthat

20,000.00

71.

Jyoti Chaudhary

Udapur

20,000.00

72.

Saroj Tharu

Rupandehi

20,000.00

73.

Nitu K Chaudhary

Rauthat

20,000.00

74.

Shreejana Chaudhary

Udapur

20,000.00

75.

Nirmala Chaudhary

Saptary

20,000.00

76.

Sristika Chaudhary

Saptary

20,000.00

Scholarship Recipients: 2011/2012

77.

Jyoti Chaudhary

Udaypur

20,000.00

78.

Saroj Tharu

Rupandehi

20,000.00

79.

Nitu K. Chaudhary

Rauthat

20,000.00

80.

Janak K. Tharu

Banke

20,000.00

81.

Chitra Rekha Chaudhary

Rauthat

20,000.00

82.

Shiva Raj Thanet

Nawalparasi

20,000.00

83.

Chhabi Lal Chaudhary

Kailali

20,000.00

84.

Ram kishun Tharu

Bardia

20,000.00

Scholarship Recipients: 2010/2011

85.

Janak Tharu

Banke

15,000.00

86.

Chitra Rekha Chaudhary

Rupandehi

15,000.00

87.

Shakuntala Tharu

Rupandehi

15,000.00

88.

Ram Kishun Tharu

Bardiya

15,000.00

89.

Bharat Tharu

Bardiya

15,000.00

Scholarship Recipients: 2009/2010

90.

Gyanu Khawas

Rupandehi

15,000.00

91.

Shashi K Chaudhary

Saptary

15,000.00

92.

Ramkrisha Tharu

Bardiya

15,000.00

93.

Sunita Chaudhary

Chitwan

15,000.00

94.

Dol Raj Thanet

Nawalparasi

15,000.00

Scholarship Recipients: 2008/2009

95.

Bharat Tharu

Bardiya

19,000.00

96.

Kalpana Devi Mahato

Nawalparasi

14,000.00

97.

Sudeep Chaudhary

Saptary

14,000.00

98.

Rajeshwar Mahato

Chitwan

14,000.00

99.

Pramila Chaudhary

Udaypur

14,000.00